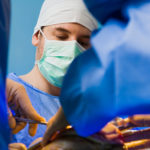 If you have been told you will need surgery to repair an orthopedic injury, it is only natural to have concerns. You might be worried about how long it will take to recover from your surgery or whether you will have noticeable scarring. Many orthopedic injuries can be repaired using arthroscopic surgery, which allows for a faster recovery time and less scarring than traditional open surgery techniques would.
Arthroscopic Surgery
Instead of opening up the area where a surgical repair is needed, as is the norm with traditional surgery, arthroscopic surgery involves the use of a small camera called an arthroscope. The surgeon makes a small incision in the area near the joint where the repair is needed. The arthroscope is inserted into that incision to provide an image on a viewing screen within the operating room for the surgeon to see the affected joint without having to make a large incision. Additional incisions may be made to allow the surgeon to operate using small tools to make repairs.
Benefits of Choosing Arthroscopic Surgery
There are several advantages to choosing this type of surgery over traditional surgery:
Smaller incisions mean smaller scars, less bleeding and less injury to surrounding tissues, such as skin, nerves or muscles
Most arthroscopic procedures are done on an outpatient basis, eliminating the need for a hospital stay
Depending on the type of injury and the health condition of the patient, recovery time is typically shorter than that of open surgeries
The risk of infection is often reduced because of the smaller incisions and the elimination of a hospital stay
Injuries That Can Be Repaired Through Arthroscopic Surgery
Depending on the severity of the injury or condition, arthroscopy may be used on almost any joint in your body. However, it is not normally used for total joint replacement, which requires a complete exposure of the joint.
Arthroscopy can be used to repair injuries to the:
Spine, such as herniated or bulging discs, osteoarthritis or bone spurs
Shoulder, such as tears to the rotator cuff or impingement syndrome
Wrist, such as ligament tears, fractures or carpal tunnel syndrome
Hip, such as synovitis, dysplasia or femoroacetabular impingement
Knee, such as torn meniscus, torn ligaments and osteoarthritis
Your First Choice for Arthroscopic Surgery in Tustin, CA
When surgery has been recommended, you want a surgeon that has years of experience in arthroscopy and traditional surgery. In Tustin, your first choice should be Dr. Howard Marans of OCOrthopedic+ who has over 20 years of experience in arthroscopic surgery. Dr. Marans accepts most insurances and offers appointments within a short time frame after your initial call. To schedule your consultation, please click below or call the office at 714.979.8991.