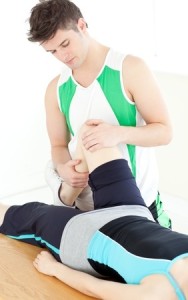 Whether you are a professional athlete or a weekend warrior, you might not always be able to outrun your risk of a knee injury. The good news is through advances in medical technology, many dreaded knee injuries can now be repaired. Arthroscopic surgery can allow you to return to full activity in many cases.
Choosing a Knee Specialist
As a renowned knee specialist, Dr. Howard Marans in Fountain Valley, CA has completed fellowship training in the structure and treatment of knee injuries. The knee is a very complex joint with many components. It is the largest and most vulnerable joint in your body. This responsibility makes it the most likely joint to suffer an injury.
The knee consists of four main parts:
Bones, including

Tibia
Fibula
Femur
Patella

Cartilage, including:

Medial meniscus
Lateral meniscus
Articular cartilage

Ligaments, including:

Anterior Cruciate Ligament (ACL)
Medial Collateral Ligament (MCL)
Lateral Collateral Ligament (LCL)
Posterior Cruciate Ligament (PCL)
Patellar ligament

Tendons, including:
When to Seek Treatment for a Knee Injury
If you are suffering from knee pain, your first point of medical contact should always be with a doctor specializing in knee injuries. Always immediately consult with a knee specialist to rule out other conditions for your pain. Delays in finding any additional injuries can lead to further and sometimes more extensive injuries because any injury to the knee can cause it to become unstable.
Dr. Marans recognizes the urgency with knee injuries and other types of sports injuries. As a compassionate and caring knee specialist, he understands his patients' desire to get back into action as soon as safely possible. Most patients are seen within a day or two, if not the same day when they call to schedule a consultation with Dr. Marans.
When Surgery is Recommended
Some knee injuries will require surgery if severe. Meniscal tears, ligament tears or cartilage damage typically require surgery. Often, knee injuries can be corrected through arthroscopic surgery. Dr. Marans is a world-renowned orthopedic surgeon specializing in arthroscopic surgery.
Premier Knee Specialist in Fountain Valley
When seeking treatment for your knee, you want only the best and most experienced medical care. Dr. Howard Marans is the premier knee specialist in the Fountain Valley area. The Doctor will work with you to develop a treatment plan based on your individual needs and desired outcome for recovery. Call to schedule your consultation at 714.979.8981 or click the icon below.