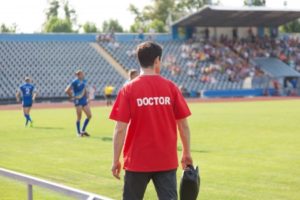 You do not need to be a professional athlete to benefit from a doctor who specializes in sports medicine. Being treated by a doctor who has received additional training in sports medicine is often a better choice for today's physically active individuals.
A Sports Medicine Doctor Stands Out
The focus of sports medicine doctor is to help patients.
Improve their athletic performance – whether they are a professional athlete or weekend warrior
Recover from their injuries and return to action as quickly as possible
Prevent recurrent or new injuries in the future through education and training
Sports medicine doctors must complete a sports medicine fellowship after completing medical school and a residency program. A sports medicine fellowship typically takes one to two years.
Dr. Howard Marans' education and clinical experience.
Orthopedic Residency at the University of Toronto
Fellowship at Toronto's Orthopedic and Arthritic Hospital
The Doctor completed his Sports Medicine studies at the Royal Adelaide Hospital in South Australia
The Doctor specializes in treating knee and shoulder injuries.
Each patient's injury is unique. Dr. Marans specializes in developing individualized treatment plans. A typical treatment plan may include non-surgical or surgical treatment options.
Physical therapy is implemented before and after surgery to help maintain range of motion and muscle tone.
A top sports medicine doctor like Dr. Marans will guide you through your recovery and continuously monitor your progress until you are able to return to your peak performance. Dr. Marans will works to reduce the chance of recurrent injury or new injuries, while improving performance.
Choose a Top Sports Medicine Doctor
You should consider seeking treatment from a top sports medicine doctor if you:
Have an acute injury. Seeking immediate evaluation after a sudden injury can help determine the extent of the injury and the best course of treatment.
Suffer from recurrent injuries. The doctor can help you identify the reason(s) for re-injury, whether they are from training errors or because of a biomechanical abnormality.
Want to prevent injuries. Know how to prevent injuries will help keep you off the sidelines.
Wish to enhance your performance. You can benefit from your doctor's experience and knowledge to take a comprehensive approach to maximizing your athletic potential.
Top Orange County CA Sports Medicine Doctor
Dr. Howard Marans is one of the top sports medicine doctors in Orange County. The doctor has successfully treated thousands of patients, including professional athletes, over the past 20 years and can help you too. To schedule your consultation, please click below or call 714.979.8981 today.