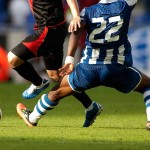 Most sports injuries are covered under medical insurance. However, if you are a professional athlete or participate in collegiate or organized sports, your injuries might not be covered by your health insurance plan. It is important to check the terms of your policy if you are involved in any of these types of activities.
Health Insurance and Sports Medicine
Sports injuries often occur suddenly. Your first contact with a doctor might be with your family doctor or with an emergency room doctor. Depending on the type of health insurance that you have, you might be required to first see your primary doctor to receive a referral to see a specialist for your injury. Some types of health insurance will allow you to see a specialist, like a sports medicine doctor right away without obtaining a referral from your primary doctor.
Why Seek Treatment from a Sports Medicine Doctor
You do not need to be an athlete to see a sports medicine doctor. Sports injuries can be treated by a doctor who specializes in sports medicine regardless of whether you are a professional athlete or a weekend warrior. Many sports injuries do not require surgery and it is often in your best interest to be treated by a sports medicine doctor. This is because this type of doctor focuses on helping his or her patients:
Recover from their injuries
Maximize their performance
Prevent reoccurring or new injuries
Sports Medicine Doctor vs. Orthopedic Surgeon
Most insurance will cover treatment from a sports medicine doctor or an orthopedic surgeon for a sports injury. Both are qualified to treat sports injuries. Often, an orthopedic surgeon is best suited toward treating injuries that require surgery. A sports medicine doctor will work with you to develop a treatment plan to meet your goals for recovery, guide you through rehabilitation and monitor your progress as you return to your sport.
Why Choose Dr. Howard Marans?
Dr. Howard Marans is an orthopedic surgeon that specializes in sports medicine. Treatment from Dr. Marans gives you the best of both worlds. As a sports medicine specialist, the Doctor will work with you to develop an individualized treatment plan to best approach your goals for recovery and get you back in the game as soon as possible. When a sports injury requires surgery is indicated, Dr. Marans is a highly skilled orthopedic surgeon who has been trained in the latest arthroscopic surgical techniques.
Best Sports Medicine Treatment
If you suffered a sports injury, the sooner you receive treatment, the better your outcome will be. Dr. Marans usually sees patients within a few days of scheduling their initial appointment with his office, if not the same day. If you are concerned about your health insurance and sports medicine, Dr. Marans' office accepts most major health insurance plans. To schedule a consultation, please click below or call the office at 714.979.8981.